TV: Raising Dion
I recommend the Netflix sci-fi/adventure drama series Raising Dion, which is about a curious 8-year-old-boy. His widowed mother has to protect Dion both from his mysterious superpowers and from the darker aspects of our world. It's lighthearted, funny and intense, and has a great model for how to discuss racism with children. Season 2 is out now!
—Angie, Co-Chair
Film: The Watermelon Woman
The Watermelon Woman (1996) by Cheryl Dunye, stars Dunye herself as a Black lesbian filmmaker researching a Black actress from the 1930s who is billed only as "The Watermelon Woman." As Cheryl digs deeper into the woman's past, she discovers connections between herself and the actress that changes her own relationships with romance, film, and what it means to be able to express oneself.
I recommend this film because 1) it was the first US feature directed by an out Black lesbian, 2) it explores the meaningful role that archives play for queer and Black people, 3) it examines what it means to reclaim a troubled past, to connect to the people who lived, loved, and suffered in that past, and 4) helps us process how who we are today is inherited from the past.
—Warren, Co-Chair
Book: Kindred
"Kindred explores the dynamics and dilemmas of antebellum slavery from the sensibility of a late 20th-century black woman, who is aware of its legacy in contemporary American society. Through the two interracial couples who form the emotional core of the story, the novel also explores the intersection of power, gender, and race issues, and speculates on the prospects of future egalitarianism." Learn More
—Stephani, At-Large Officer
Film: American Revolution 2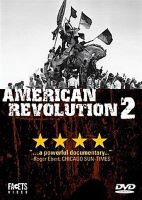 I recommend the documentary American Revolution 2. It starts out looking at the police riot outside the 1968 Democratic Convention in Chicago from the viewpoint of black residents, to whom the behavior of the police came as no surprise. However, it also covers the development of common cause between the Black Panthers and the Young Patriots, a social movement that developed among young Appalachian migrants on the north side of Chicago, whose economic and social conditions, and experience with the Chicago police, was identical with that of African Americans on the south side. This development of class consciousness is something we as socialists should pay close attention to. This is what we should be working toward.
—Greg, Education Officer
Music: New Amerykah Part Two (Return of the Ankh), Erykah Badu
New Amerykah Part Two (Return of the Ankh), by Erykah Badu, is an excellent record that explores different kinds of love and relationships, as well as plays around with funk, soul, and R&B genre conventions. This is one of my go-to chill-out albums because of how smooth it is.
—Warren, Co-Chair
Book: Homegoing, Yaa Gyasi
"Homegoing is the debut historical fiction novel by Ghanaian-American author Yaa Gyasi, published in 2016. Each chapter in the novel follows a different descendant of an Asante woman named Maame, starting with her two daughters, who are half-sisters, separated by circumstance: Effia marries James Collins, the British governor in charge of Cape Coast Castle, while her half-sister Esi is held captive in the dungeons below. Subsequent chapters follow their children and following generations." Learn More
—Stephani, At-Large Officer
Music: Whack World, Tierra Whack
"Tierra Whack's debut fifteen-track album, Whack World, was released on May 30, 2018 and received a 'Best New Music' accolade from Pitchfork. Critics praised the unusual format of the album—each song lasting about 1 minute each. Whack released each short track on Instagram, each accompanied by a short film directed by Thibaut Duverneix and Mathieu Léger. The multimedia project received widespread critical acclaim." Learn More
Available on YouTube, Whack World is a fun and exciting introduction to Tierra Whack's music. You can find her work on SoundCloud, including my personal favorite, "Only Child" (however, as an only child, I do not personally endorse the sentiments of this song).
—Rachael H, Secretary